Best Restaurants in Namibia
Namibia's full of surprises and you'll find the trend continues when you sit down at the top restaurants in the country.
You'll find a host of delicacies to dazzle your taste buds during your travels. Whether you're after all your familiar favourites or unique local eats you'll never go hungry in Namibia.
Check out these top restaurants in Namibia that'll surprise you with their range of food, glorious food, during your visit.
Windhoek
Windhoek's one of Namibia's most visited destinations due to its location close to the Hosea Kutako International airport. For that reason, many travellers have discovered the various delights this interesting city has to offer including a range of top-notch restaurants.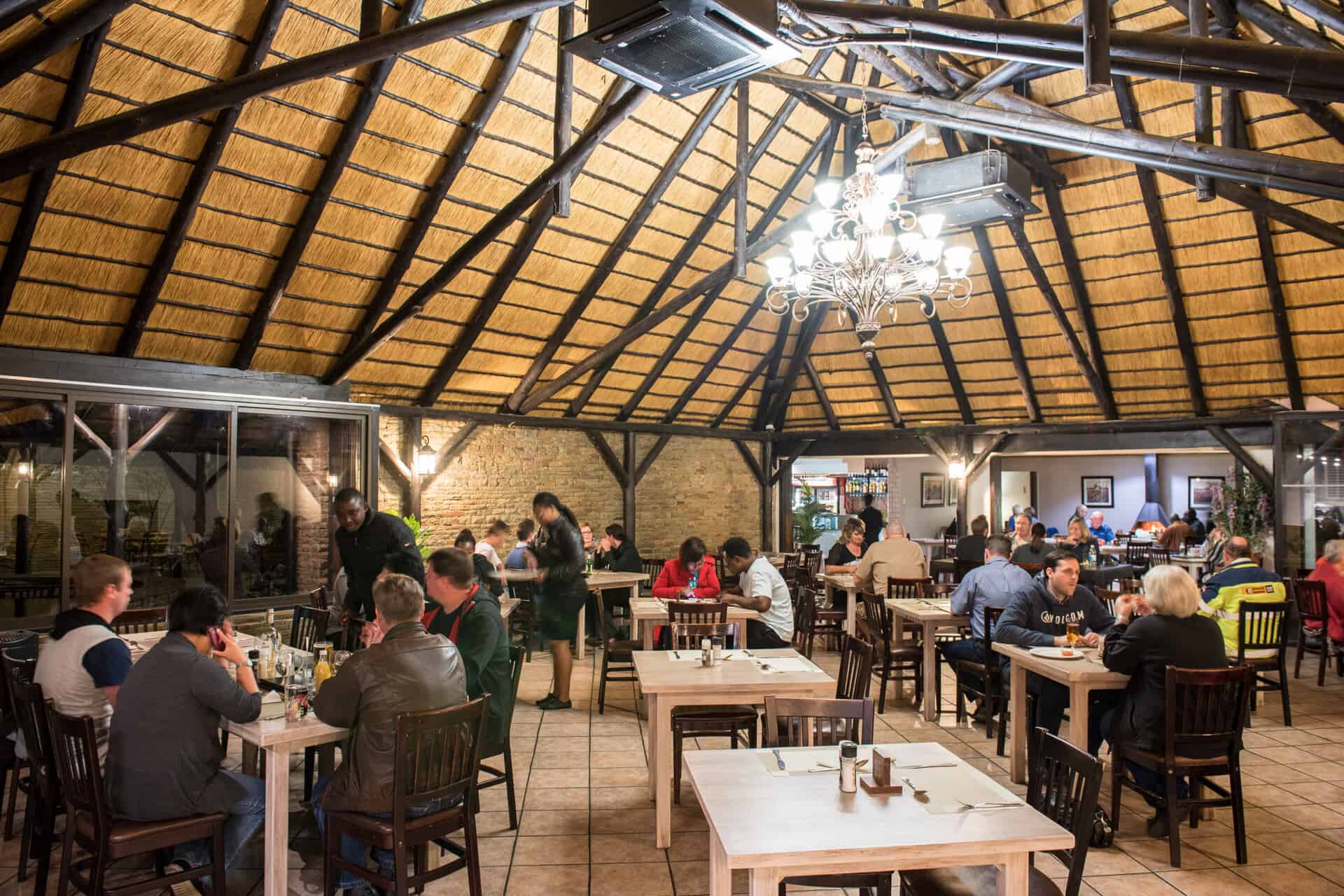 Arebbusch Travel Lodge Restaurant & Pizzeria
Whether you're planning an overnight stay in the capital or passing through on your way to Namibia's most exciting attractions, be sure to stop off at this well-known local eatery for a little bit of what you fancy.
The Arebbusch Travel Lodge Restaurant offers a huge range of delicious meals prepared with the freshest ingredients. You can dine indoors at this prestigious eatery and enjoy food from around the globe as well as local eats.
At the Arebbusch pizzeria, you'll find a selection of the best gourmet pizzas in Windhoek, made from stone milled flour and cooked to perfection in a traditional wood-fired oven. You'll also find a selection of wraps, and burgers to enjoy.
You can dine inhouse, via delivery or order a takeaway from this top establishment.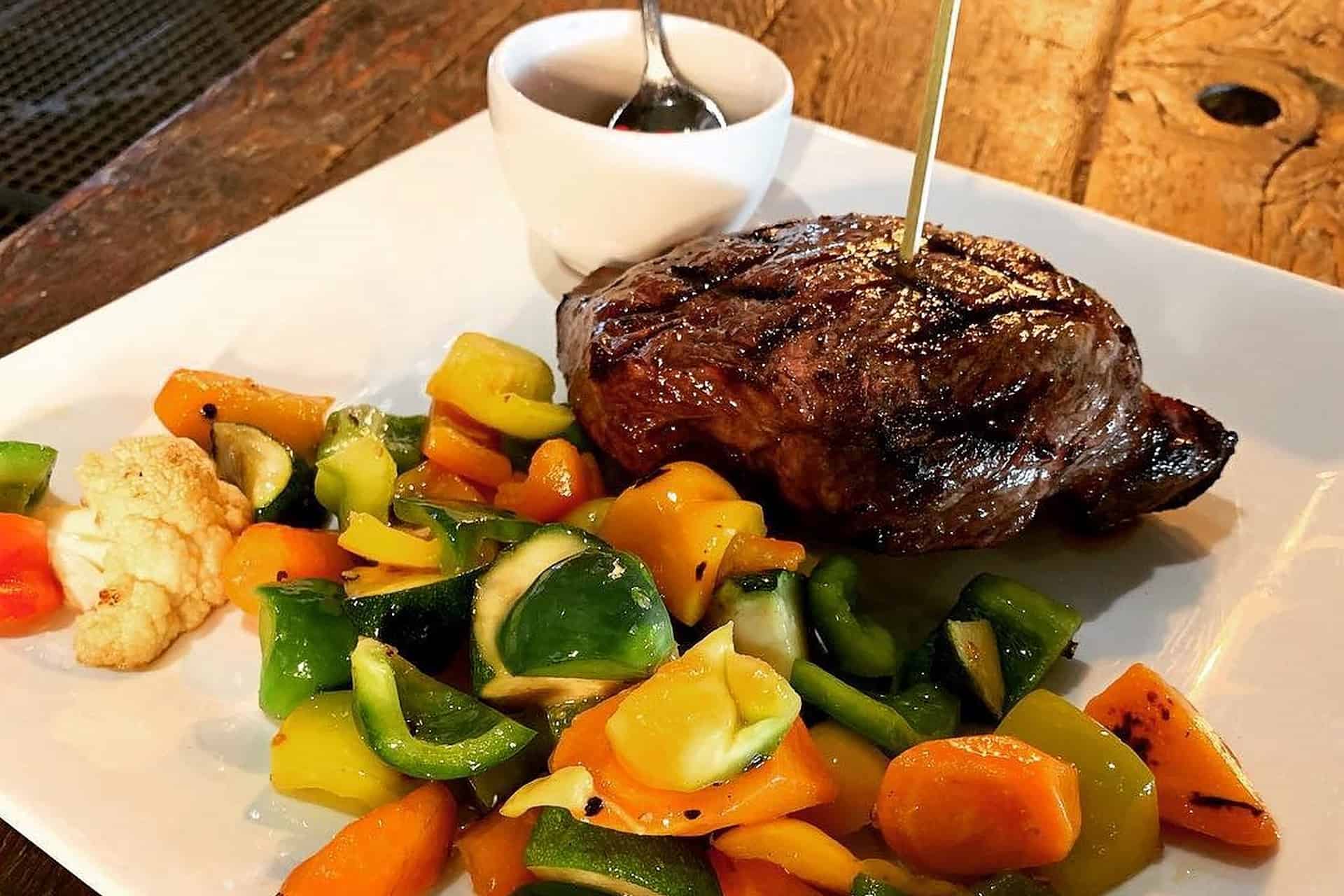 Stellenbosch Wine Bar & Bistro
Wine and dine bistro-style at this upmarket restaurant in the quiet suburb of Klein Windhoek on the Eastern outskirts of the city. Stellenbosch Wine Bar brings a taste of the fairest Cape to your Namibian trip with its excellent selection of fine South African wines.
The food is pure Namibian excellence with creative dishes, hearty meals, and fresh light eats to choose from. You're bound to find something that suits your craving of the moment at Stellenbosch Wine Bar.
The Fisher
It's amazing that The Fisher manages to serve such fresh fish so far from the coast, but they thrill the palate every time with the freshest of fish from the ocean to your plate.
So, head to the Hidas Centre on Nelson Mandela Ave the next time you're looking for something different during your Windhoek stay.
The Fisher specializes in Portuguese fish dishes and traditional eats like slow-cooked beef ribs, Portuguese style Eisbein, and Caldeirada De Cabrito.  Don't miss a chance to try the crispy octopus either.
Swakopmund
Just as Windhoek is a top stop on anyone's itinerary, Swakopmund is also a leading destination for world-class seafood and desert adventures.
The Tug
Get your introduction to the city's finest cuisine at The Tug. Everything about this restaurant is unique. From its incredible destination on the shores of the Atlantic to innovative dishes featuring Namibia's heartiest local cuisine.
Here you can tuck into a locally-sourced ever-evolving menu of diverse eats. Vegetables are grown hydroponically in the Namib desert, the best export-quality fish come straight from the ocean, and dishes are prepared on a classic Josper oven fuelled by charcoal specially created from the marula trees of the Kunene.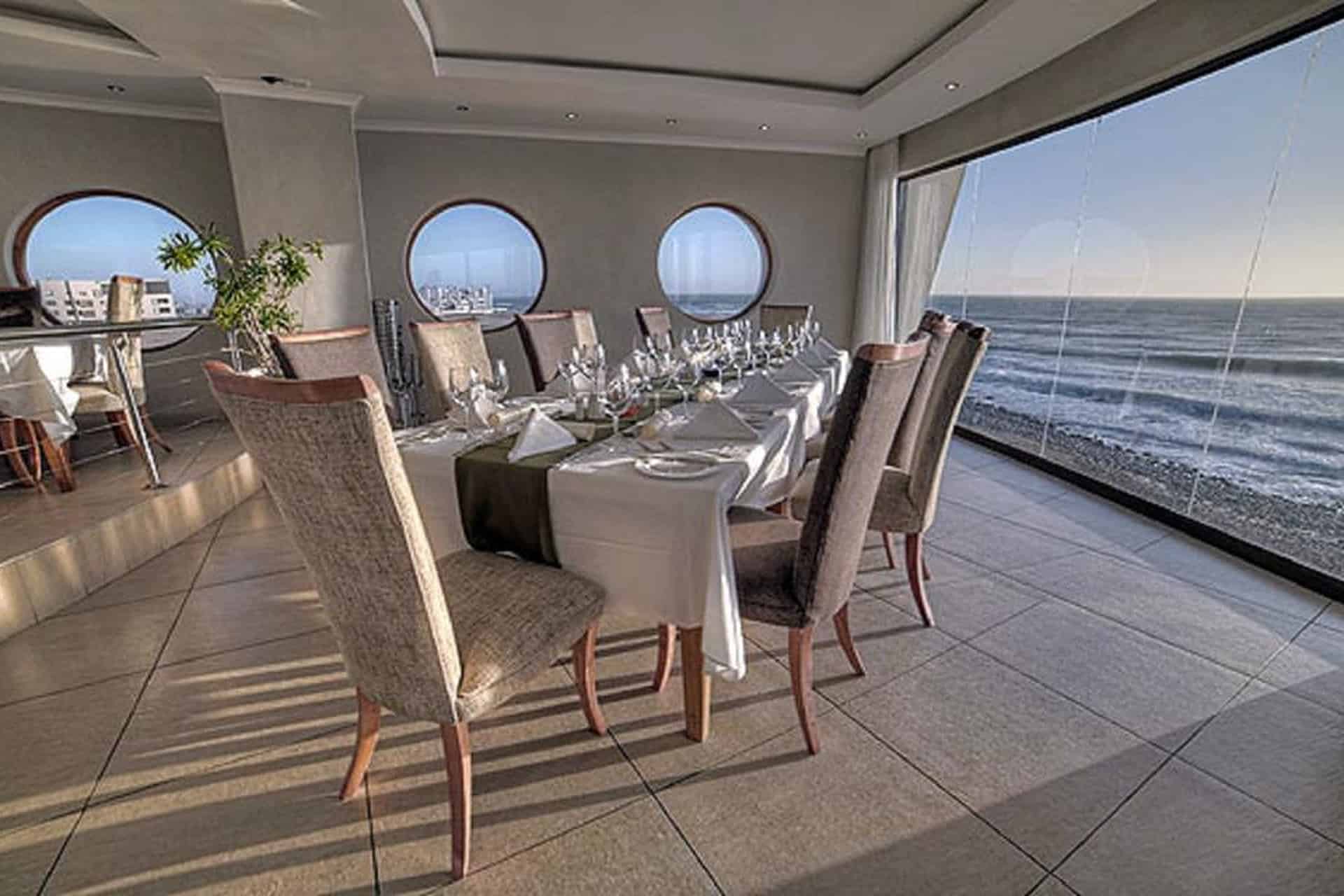 The Wreck
If you're after five-star dining during your Swakopmund stay. The Wreck is your solution. With uninterrupted sea views from its second-floor location, The Wreck dishes up gorgeously presented fresh seafood dishes like tempura prawns, fresh local oysters, calamari and all your favourite fish.
Meat lovers can look forward to a selection of succulent pork, venison, and beef dishes all served by courteous attentive staff.
The Wreck's an ideal option for a romantic night out, light lunches, and snacks. The wine list offers a range of respite from the Namibian heat with a hand-picked selection of  champagne and wine.
Lüderitz
Another seaside favourite among international and local tourists alike, Lüderitz is a fascinating historic city in a startlingly arid environment.
The Portuguese Fisherman
Allow the Portuguese Fisherman to introduce you to the flavourful delights of Mediterranean dining. This unassuming outlet holds pride of place on the shores of Lüderitz where you can try almost every kind of seafood you've ever heard of.
Fill up on oysters, prawns, clams, mussels, crab, lobster, octopus, cataplana, picanha, and more or pop in for a drink and traditional tapas.
The Portuguese Fisherman offers a classic combination of a laid-back atmosphere coupled with first-class eats.
Walvis Bay
Namibia's second largest city offers a wealth of delights for every adventurer, featuring wide open spaces, abundant marine life, and outdoor activities for all.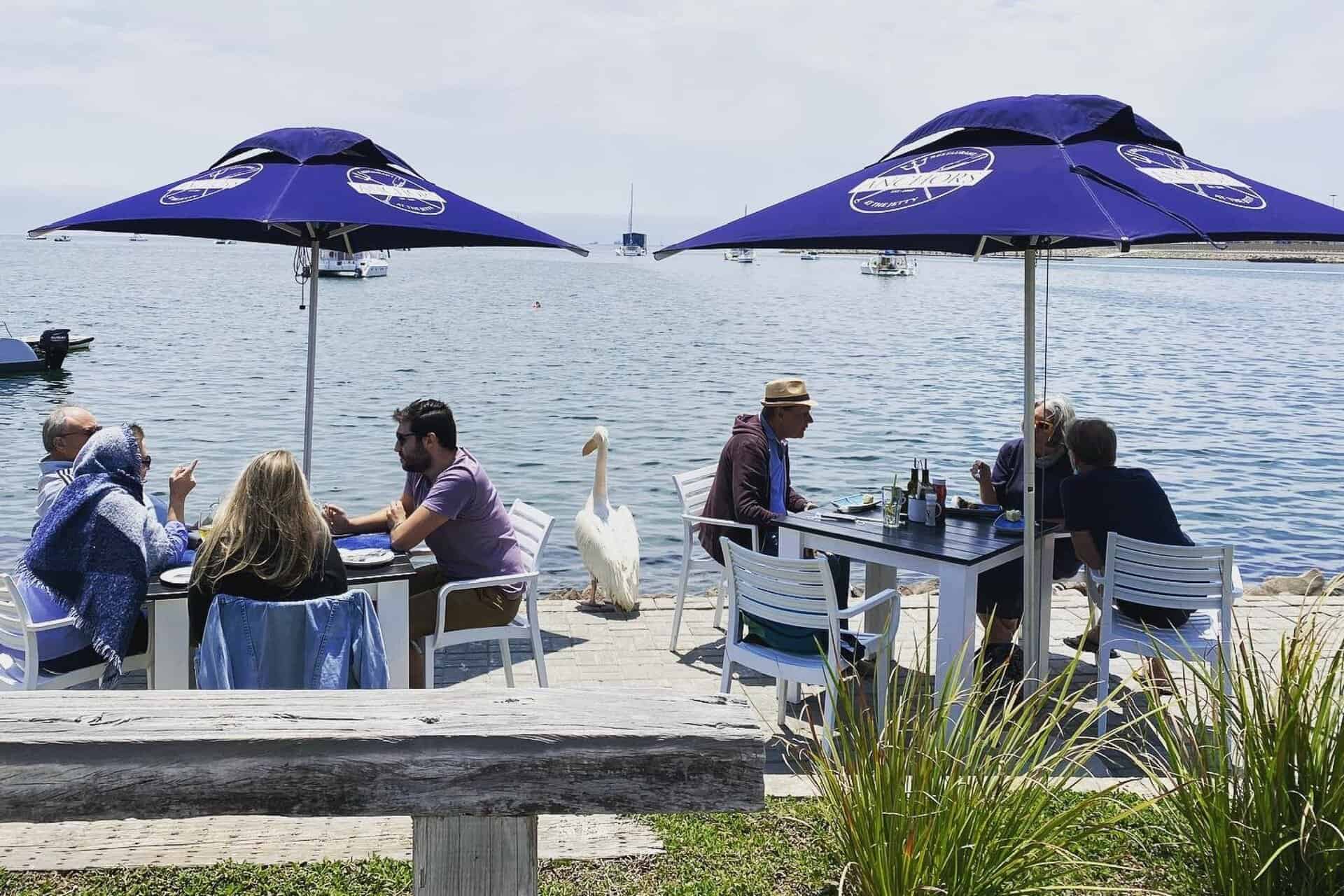 Anchors @ The Jetty
It's all about the food at this unpretentious eatery located right on the Walvis Bay Waterfront. A favourite among local diner's, Anchors is a well-established and accomplished restaurant with food to match its stunning views.
Here, the seafood platters are piled high with the freshest oysters, calamari, and shellfish while the ribs and chicken wings languish in a sticky, delicious glaze.
Anchors is best known for its prompt service, affordable prices, and unbelievable sunset views so don't miss out during your visit to Walvis Bay.
Sossusvlei
The Sossusvlei is the classic desert destination for those in search of unique desert-adapted species, unique plant life, and clear night skies. Here, you can spend time in relaxed, rustic camps or spoil yourself with a luxury stay on the fringes of the wilderness.
Taleni Sossusvlei Lodge
The  Sossusvlei is another don't-miss destination for Namibian travellers offering fascinating sites and unique creatures.
There isn't a wealth of dining establishments in this neck of the woods, but Taleni Sossusvlei makes up for the scarcity. Located at the entrance to the Namib Naukluft National Park, Taleni Sossusvlei is a true gateway to the amazements that lie beyond, and you can get a taste of what lies ahead when you dine at the onsite restaurant.
Make the most of this Sossusvlei restaurant by visiting for dinner where you can dine outside on the deck and admire a passing parade of oryx, jackal, and springbok at the floodlit waterhole against a backdrop of the Elim Dune.
The evening buffet with its expertly prepared meat and vegetable dishes is the top dining option for evenings in this scenic venue.
Breakfast is a continental affair with freshly baked breads and all your favourite dishes while lunch is the chef's choice served with fresh salads.
Etosha National Park
With its massive salt pan visible from space, Etosha National Park is one of Africa's most iconic wildlife havens. Every nature lover will find something to delight them both within the park and while staying at one of the luxury lodges nearby.
Gondwana Etosha Safari Camp
If you're en route to the delights of Etosha National Park be sure to stop off at this luxurious camp close to Andersson Gate.
Apart from spacious grassy campsites, Etosha Safari Camp offers unique dining opportunities at the onsite restaurant, Okambashu, where you can enjoy a selection of all your favourite eats from the buffet. A special attraction at the Okambashu restaurant is your choice of table can be in one of many different rooms, each with their own name and theme.
Afterward, you can join in the revelry at the OShebeena bar where live music is the order of the day, traditional cocktails' are a highlight and the décor reflects a taste of jovial township life.
Disclaimer
Please Note: The details shared herein were correct at the time of publishing. However, with time some of this information may change. We recommend confirming information with suppliers prior to making final travel arrangements. If you do happen to find an issue with any information we've shared here, please feel free to contact us so that we can make the relevant changes.