Introduction
When travelling through the south of Namibia, the town of Lüderitz deserves at least a two-day visit; three days if you can afford the time. Although it's located on a particularly rough stretch of coastline, many of its features and activities are said to surprise and delight tourists. Here's what to put on your must-dos list in Luderitz.
This quaint town was named after controversial colonial figure and merchant Adolf Lüderitz and started out as a trading post. His aim, with fellow Bremen merchant Heinrich Vogelsang, was to form a colony for German settlers in South West Africa. The town was founded in 1883 when Vogelsang purchased it on Lüderitz's behalf; and it got the name Lüderitzbucht in 1886 when the merchant, himself, unfortunately did not return from an expedition to the Orange River. After the discovery of diamonds in 1909, the town enjoyed a sudden splash of prosperity during which the adjacent diamond-mining settlement of Kolmanskop was built.
Go Walk About
On arriving in Lüderitz, it is common to first want to park your car and take a stroll around the many quaint and cute colonial and art nouveau buildings that are scattered around the main thoroughfares. Highlights include the following six national monuments:
• the Deutsche Africa Bank dating from 1907 and the Rock Church (Felsenkirche) on Diamond Hill from 1912;
• the Glück Auf (Good luck) building, built for a diamond lawyer in 1907-1908 and the Goerkehaus (Magistrate's House) built for diamond manager, Hans Goerke, between 1909 and 1911; and
• the Kreplinhaus, former residence of the town's first mayor, Emil Kreplin, dating from 1909,  as well as the beautiful Railway Station, hailing from 1904.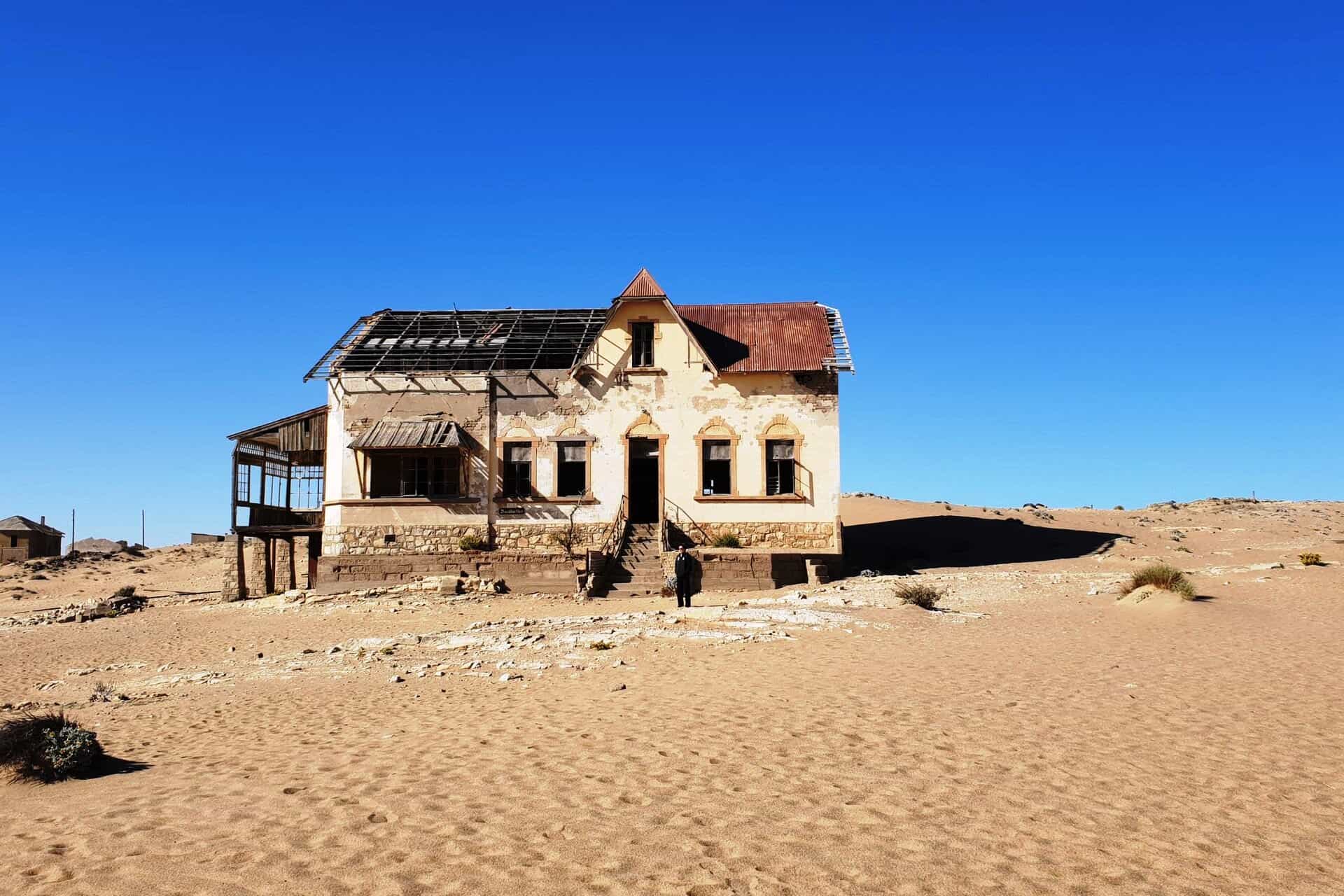 Take A Ghost Town Jaunt
While Kolmanskop (Coleman's Head) has become synonymous with diamonds, this tourist attraction – located just 10km from Lüderitz – got it's name after a transport driver, Johnny Coleman, had to leave his wagon in the area during a late-nineteenth century sandstorm. Guided tours take place at 9am and 11am each weekday and at 10am on Sundays; although this is not the only way to explore Kolmanskop. You could also opt to just take a walk around with your travelling party, which can feel less pressurised and you might just see that little bit more because you are not packed together with a big bunch of people. Or, join the guided tour to learn the history of the town (given in brief below) and to take in your guide's tales of what life was once like here, and then explore on your own thereafter to really absorb the place. Just remember to wear comfortable walking shoes, and to take along sun block and drinking water; and don't forget your camera.
The story goes that a railworker, Zacherias Lewala, first noticed a couple of interesting stones while shovelling sand one day back in 1908. He handed them to his supervisor, August Stauch, who took them along to a mining engineer for appraisal. Well, the stones turned out to be diamonds and, despite Stauch's request for the news to be kept quiet, before long every available stretch of land in the area was being pegged out by prospectors. Apparently, by 1912, Kolmanskop was responsible for over 11 percent of the world's diamond production, and the town had grown to include grand houses with manicured lawns, a hospital, bowling alley, butcher, baker, post office, ice plant, pub and magnificent opera hall. It is also rumoured that a crate of the very best available champagne arrived regularly by train from Cape Town! But soon the diamond supply began to dwindle and all the prospectors began to leave – one by one – until, in 1956, no families remained and the town was left to the mercy of the inhospitable desert sands.
Enduring Landmark
The Dias Cross marks the spot, in 1488, where a group of Portugese explorers first set foot on the coast near Lüderitz. The cross is fairly easy to find, as it is clearly signposted just before you reach the town on the B4 to Lüderitz, its closest port. Once you've parked and disembarked your transport, you can admire and photograph the cross itself, the nearby red-and-white lighthouse dated 1915, and the impressive views across the Atlantic.
If you're on a guided tour or fortunate enough to have a history buff in your party, you may learn a little more than the basic background of Dias Cross. Apparently, Bartolomeu Dias sailed to the southern tip of Africa on order of King John II of Portugal and, on his return, stopped off – on 25 July of that year – at what is known today as Lüderitz Bay. Here, he erected a stone padrão to mark Portugal's presence in the area and this landmark was still standing 300 years later, despite the coast's harsh weather conditions.
Crew of 1825's HMS Barracouta then uprooted what remained, and took it along to the South African Museum in Cape Town for preservation. Then, in 1953, the archaeologist Dr Axel Erikson attempted to reconstruct the cross from these pieces and what could be unearthed on site – a task he unfortunately didn't complete before his death. Eventually, a replica of the original padrão was constructed, carved from local dolerite and unveiled on 25 July 1988 as part of the Dias quincentenary celebrations. The site of the original Dias Cross, which was declared a National Monument in 1973, is well worth a visit when you come to Lüderitz.
The Coolest Of Cats
Another great activity involves heading off to the Lüderitz Waterfront for a chilled and wind-sheltered catamaran ride to Halifax Island, which is home to a colony of African penguins. The route to Halifax will take you past an old whaling station at Stromvogelbucht, through Shearwater Bay and around Diaz Point; return. Look out for marine wildlife that ranges from heavy-side dolphins, sea birds and seals, and – if you're in luck and the season is right – a whale or two. Be sure to check the timing of your cruise, though, as some companies only operate at certain times of day, meaning you'll need to rearrange your schedule to accommodate them.
Fish In The Sea
The following Luderitz restaurants are considered great for a seafood spoil:
• Portugese Fisherman: the caldeirada (a Portugese stew) goes highly recommended. Décor is low key, the waitering staff attentive and the owner almost guaranteed to come past each table to shake hands and have a brief chat – this is very much the small-town touch.
• Penguin Restaurant: part of the Nest Hotel, this venue is classy and boasts a prime waterfront location. Here, you can enjoy all the usual seafood suspects – from oysters to seafood curries and platters to share.
• Essenzeit: a German influence predominates at this superb venue, where a typical review is "delicious crayfish, enjoyed the deck". What more could a tourist ask for?
• Oyster and Wine Bar: great oysters, delicious calamari and chips. Not a bad place to hang out for a thirst-quenching beer or three. Be sure to check out the impressive "wall of wine".
• Ritzi's Seafood Restaurant: this nicely decorated eatery offers seafood in generous portions and fair prices. Try a hake & chips with salad at R110, or upgrade to crayfish with rice at R320.
• Crayfish Bar & Lounge: spectacular views for a sundowner before dinner – or stay to experience the fresh Lüderitz oysters, fine SA wines and pure Namibian beers. What a combo!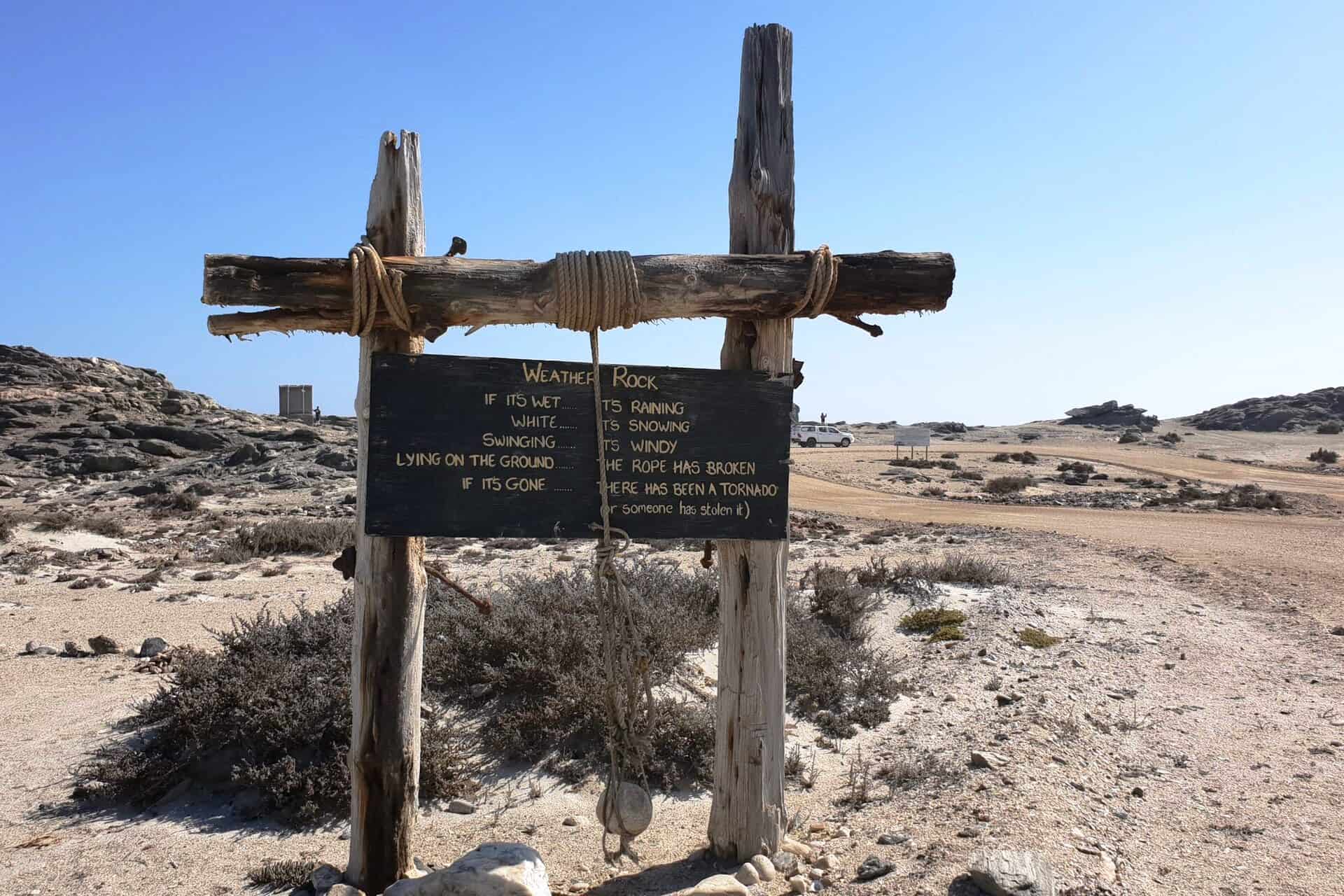 Tips For Smooth Travels
Camera? Tick. Sunblock? Tick. Binoculars for bird and dolphin spotting? Nope, not that sort of bird. Tick! Warm clothing is a good idea – jeans, sweaters and closed shoes for evenings; shorts, T-shirts and trainers should work during the daytime (season-dependent). Tick.
It is advisable to check the tide tables before making the trip across to Dias Cross, as it's only possible to reach the Cross itself, safely, at low tide. While each individual traveller or tour group should feel free to pick and choose a schedule that suits them best, it's also worth keeping in mind that Kolmanskop is only open in the morning, from 8am to 1pm, when it is also possible to join a guided tour; that exploration of Luderitz itself could easily take a full morning or afternoon; and that some catamaran cruises only run in the morning.
If you like the idea of an old shipwreck, venture out to Grosse Bucht (big bay), where a wreck called the Irmgard can be explored. The story goes that the crew was fast asleep one night in 1978/1979, when an anchor broke off and the Irmgard was battered against the rocks – finally lodging itself on the beach, where you can still survey the ship's skeleton.
For the nature lovers, look out for bright-pink flamingoes and black/white comorants; springbok, jackal and hyena popping out against the typical arid Namibian terrain; and a few unique plant species, ranging from the typical Bushman's candle with its notable bright pink flowers to the oddly-shaped dwarf succulents, typically reffered to as "Hottentots buttocks".
Many tour operators recommend that you attempt two activities per day while in Lüderitz – but should your time allow, we recommend that you take a slightly more chilled approach and potentially only undertake one activity per day so as to properly absorb the magic that is Lüderitz. After all, we consider it to be one of Namibia's prettiest "diamonds".
Disclaimer
Please Note: The details shared herein were correct at the time of publishing. However, with time some of this information may change. We recommend confirming information with suppliers prior to making final travel arrangements. If you do happen to find an issue with any information we've shared here, please feel free to contact us so that we can make the relevant changes.