Introduction
What is it about Namibia that most floats your boat when you overhear the travel talk of others or read up on its many delights? Is it the world's highest sand dunes at Sossusvlei, the extensive conservation area that is Etosha, the engaging people, most diverse landscapes, or spell-binding desert sunsets? Once you've read this article, part 1 and part 2, you'll have even more reasons to make your Namibia travel booking without delay.
Tick Off Your Bucket List
If you're fortunate enough to have driven through this rugged landscape, you'll know that survival is not only for the fittest – there's an impressive diversity to be experienced among the animals, birds and plants that call Namibia home.
If you're a stickler for detail, this country hosts at least 4 350 species of vascular plant; up to 676 bird species; and as many as 217 mammals. Seeing Africa's complete Big Five is surely high on your Bucket List – and Etosha National Park is a splendid place to make up to four of these ticks.
Located just a four-hour drive from Windhoek, this park is one of Africa's easiest ones to reach – with no less than four access gates. This not-to-be-missed destination translates into English as "great white place" as a result of its massive saltpan. Some describe the terrain as rough and inhospitable; others as captivating. One thing's for sure, you will witness incredible sightings of wildlife, which could include any combination of the following – elephant, springbok, eland hyena, giraffe, red hartebeest, gemsbok, rhino, zebra and wildebeest. In Etosha, waterholes are located close to the main accommodation areas, which range from modest campsites to luxury lodges.
While self-drive safaris are popular, you can also opt for a guided morning, afternoon or night drive under the care of a professional ranger with great insight into the land and its magnificent fauna.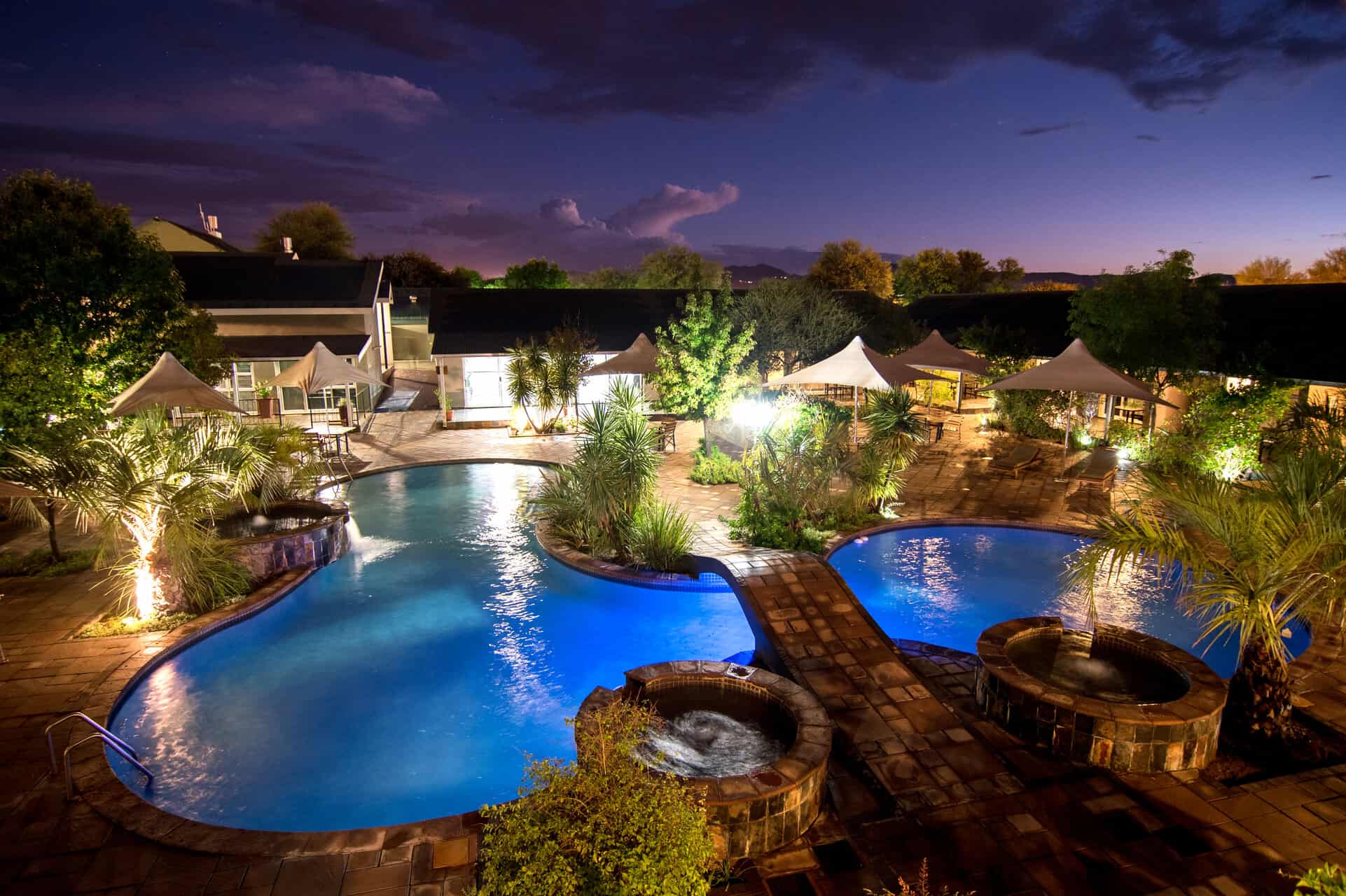 Settle In (Briefly)
When selecting a self-drive holiday in Namibia, many travellers like to have a "home base" at their first point of entry. And this is a sensible thing to do because, on landing at Hosea Kutako International Airport, you'll need to hire a 4×4, familiarise yourself with its handling, and ensure you have all the camping and other necessities for the big adventure that lies ahead.
Arebbusch Travel Lodge presents a comfortable option for that first and last nights in Namibia, with its wide variety of accommodation options (attraction: luxury meru-style safari tents are part of the mix!), its onsite restaurant and pizzeria, pools, a playground for the kids, and the most abundant birdlife to experience and photograph when strolling through it's beautifully kept yet indigenous grounds.
Even after scanning the map and stocking up, you may feel overwhelmed by the numerous places to visit and activities to cover within Namibia. It can therefore help to have a plan in mind and to have identified your bucket-list destinations and activities – plus the distances you will need to travel to reach them – well in advance of setting off.
Get Airborne
It takes approximately 3hr25 to drive from Windhoek to Swakopmund, a popular destination on the Namibian Coastline where the Namib Desert is such a draw card that thousands of tourists literally throw themselves at it from the dizzy height of 10 000ft.
Choose to skydive in free-fall, a skill that can only be mastered after thousands of hours of practise; via static line, where your parachute opens as soon as you exit the aircraft and all you require skill-wise is a day's on-the-ground training; or, the most popular and safest way, in a tandem jump with your best mate.
It may seem like the most frightening of adventure sports, but this birds-eye-view activity has an admirable safety record and is so thrilling, you're unlikely to forget it.
Go Dune Riding
A fun desert adventure can be undertaken with the likes of Desert Explorers, an eco-friendly company that offers a range of fun activities from its Swakopmund base.
This crowd is admirable in that they take care not to harm the surrounding environment in everything they offer (high-five!); so select from various lengths of quad-bike tour, sand/dune boarding (no experience necessary), some combos of the two and even a camel ride, if you're game, aboard tame trained animals with a guide in attendance.
All the gear and necessary training will be provided, but be sure to bring along the essential sunglasses, hat, sunscreen and your camera. Never underestimate the African sun!
Sail Away
Just 35km south of Swakopmund is Walvis Bay, Namibia's third-biggest town and its only deep-sea harbour. As a result of its pristine setting, the fish, oysters and rock lobsters caught here, where the dominant industry is, of course, fishing, are generally considered of exceptional quality.
Walvis Bay's major tourism highlight involves taking a boat trip up the coast to see dolphins, seals and, from July to November, the impressive tail-fin teasing of a school of wales – possibly even a sunfish (Mola mola) or leatherback turtle.
It's advisable to arrive at least 30min before your cruise departs, and to bring along the essentials mentioned above (i.e. sunglasses, hat, sunscreen and your camera), as well as a warm jacket to counter any of the onboard wind-chill factor you may encounter.
Trips last from one to four hours, and include Pelican Point lighthouse, the oyster farms en route and Bird Island, where you'll spot: penguins, cormorants, petrels, pelicans, black oystercatchers and Cape gannets. Step on board and have a seat in the covered seating area, or remain out in the open to catch those cooling sea breezes as you leave your mooring.
This activity is suitable for people of all ages; but be sure to check in with your operator on the day of your trip if the weather looks dicey.
Disclaimer
Please Note: The details shared herein were correct at the time of publishing. However, with time some of this information may change. We recommend confirming information with suppliers prior to making final travel arrangements. If you do happen to find an issue with any information we've shared here, please feel free to contact us so that we can make the relevant changes.