Introduction
In Part 1 of this series, we covered Namibia's impressive spread of fauna and flora, plus what you can see at Etosha National Park; the importance of securing a comfortable home base for those first and last evenings; and the joys to be experienced when you're out on skydiving, dune riding and sea cruising explorations. Read on for Part 2 of this Why We Love Namibia series and take in even more reasons to visit this expansive and engaging land.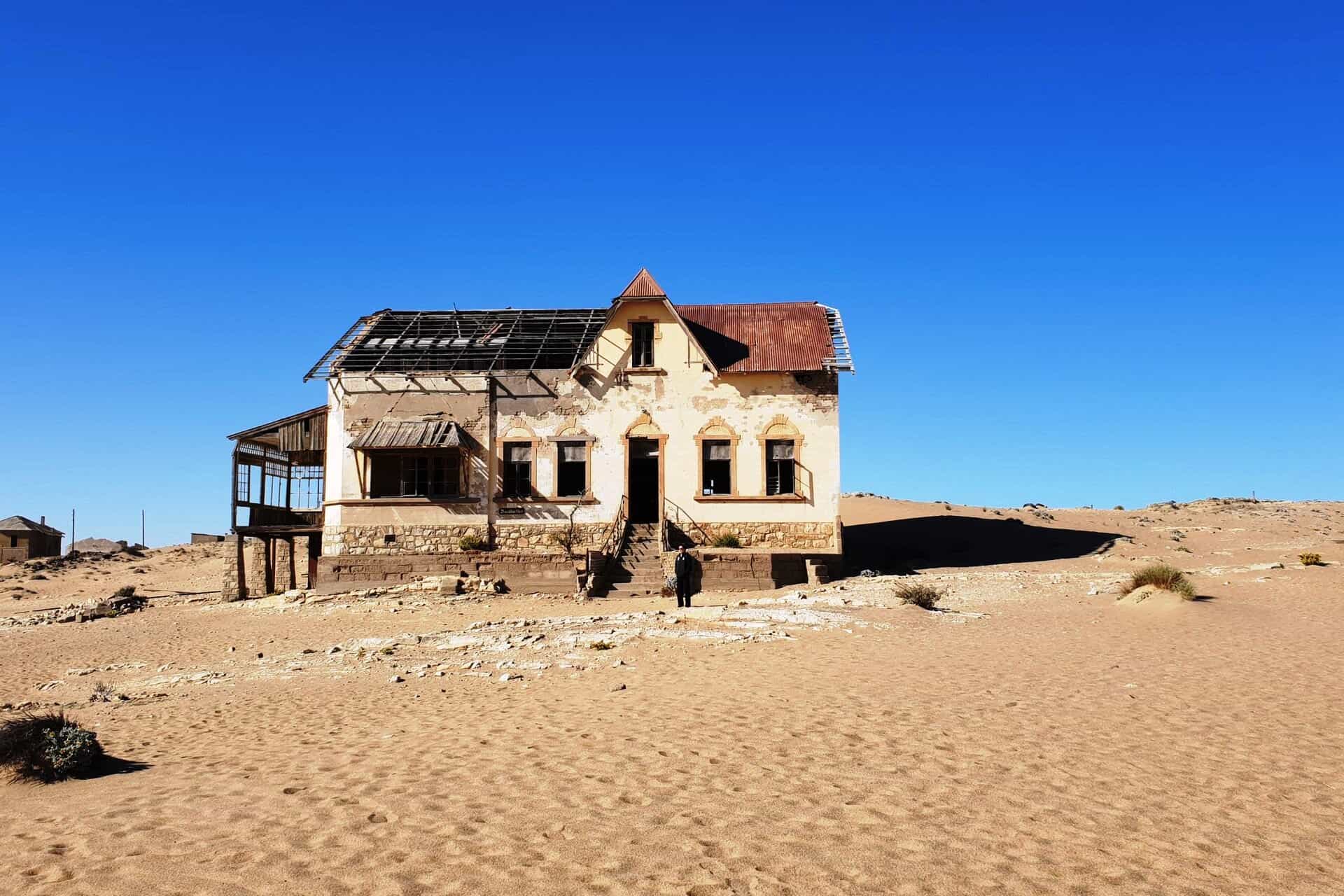 See A "Spook"
The ghost town of Kolmanskop is at least a seven-hour drive from Windhoek, but it's one of Namibia's big drawcards because it allows people to imagine what life was like during the 1900s' diamond rush.
Fancy dwellings and landscaped gardens seemingly sprung up from the desert back then and the town grew to include a hospital, bowling alley, butcher, baker, post office, ice plant, pub and magnificent opera hall as the prospectors grew wealthier and more demanding.
In fact, no expense was spared and the finest champagne arrived on the train from Cape Town at least once a week. But as the diamond supply diminished, prospecting families started to leave and, by 1956, only three families remained.
When you visit this fascinating place, aim to join a guided tour – if you can – which are available weekday mornings at 9 or 11am; but also leave time for a wander around this sand-swept ghost town with your own immediate group. Kolmanskop gives significant fuel to a vivid, if at-leisure, imagination.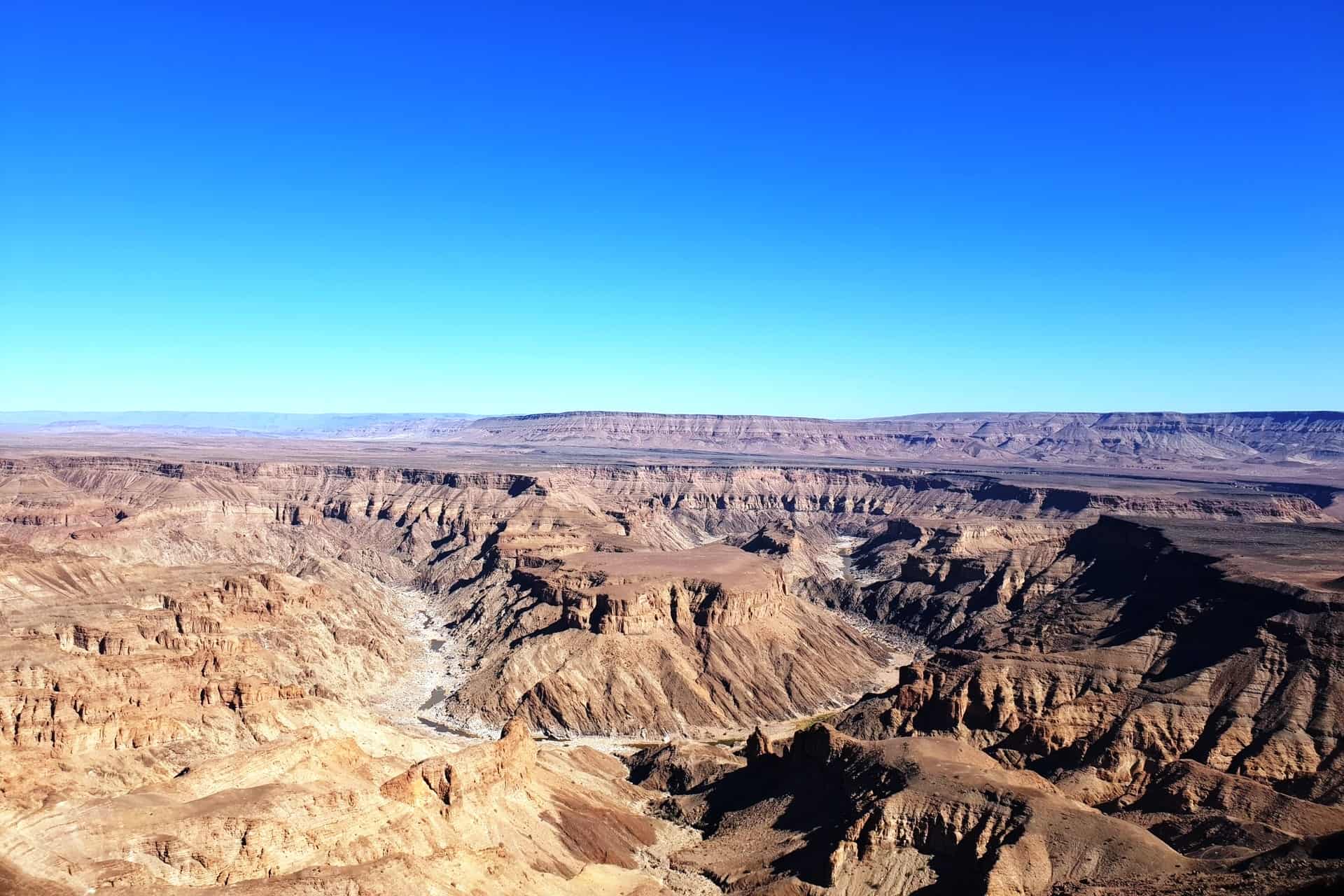 Take A Hike
Does it matter where the Fish River Canyon stands on the world canyon scale? Not really, because it numbers among Namibia's most visited places – offering sunrises and sunsets to die for, luxury accommodation among the rustic options, and thrilling things to do and see.
Stats-wise, this canyon is 160km long, 27km wide and 55m deep. At its Parks Board accommodation site, you'll find facilities that range from a spa and mineral/cold pools, to restaurants, guided walks/drives and adventure sports.
To take on its infamous hiking trail, which is only open from 1 May to 10 September, be sure to do all the necessary prep – this means ensuring you're in excellent health and very fit to boot (a medical certificate is required!).
Then: be sure to book at least a year in advance through Namibia Wildlife Resorts, on +27 (0)21 422 3761 or ct.bookings@nwr.com.na; you can sometimes be lucky, though, and get a last-minute place (must be for 3 people or more) when others drop out due to an injury or not getting their leave approved.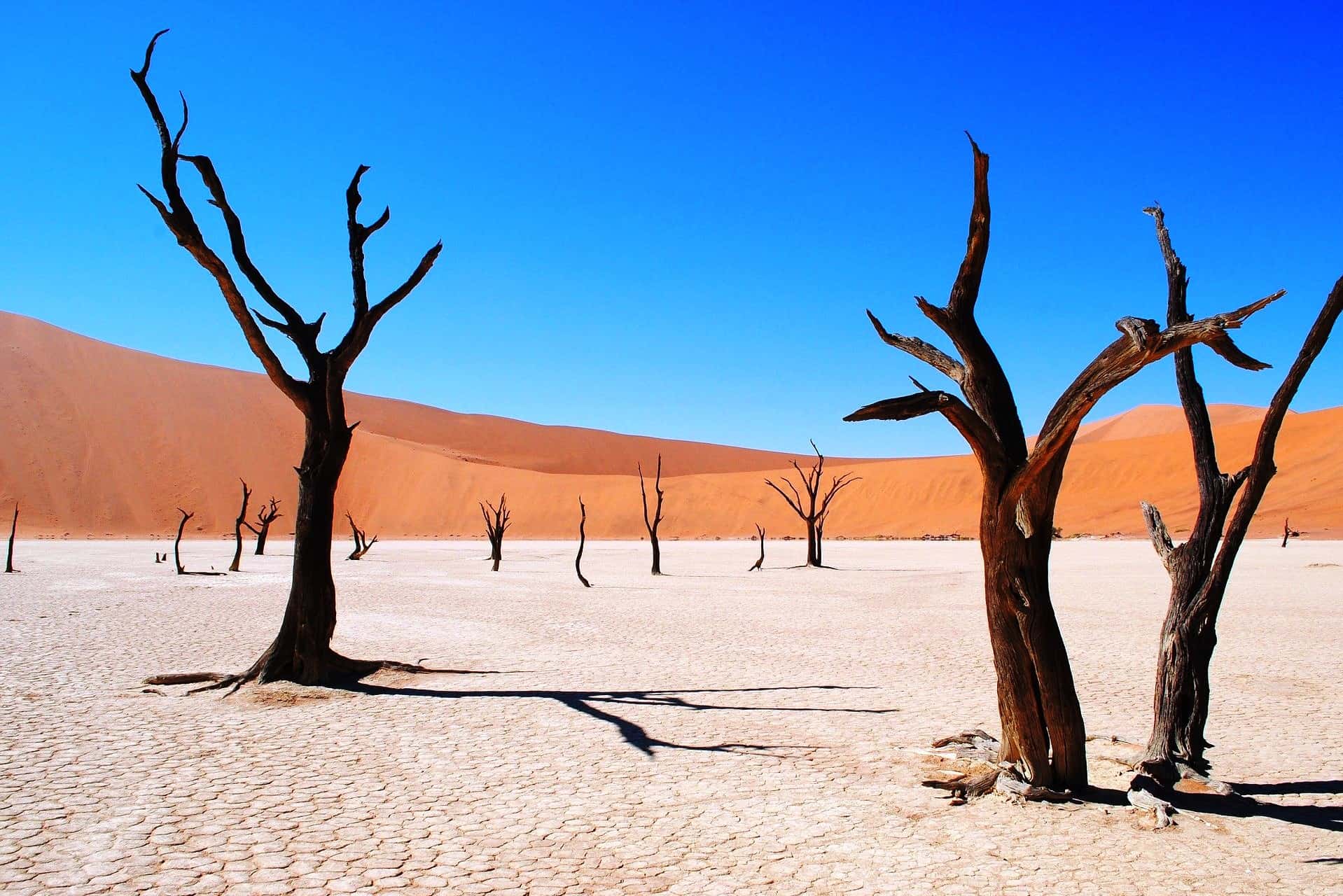 Capture Deadvlei
This white clay pan, the Deadvlei, located in the vicinity of Sossusvlei, came into being after a very heavy rainfall. Apparently, the Tsauchab River flooded its banks and created temporary shallow pools that encouraged trees like camel thorns to take root.
But then the climate underwent variation, drought hit the area, and the encroaching sand dunes (some the world's highest at 400m) prevented the river from reaching into the area's very heart. Next up, the trees perished because there was insufficient water for them. Tree skeletons from 600 to 700 years ago can be seen here, which are mostly blackened from the intense sunlight that has struck them in the interim.The combination of white and orange dunes, black trunks and blue skies tends to result in the most spectacular photography!
Get On Your High Horse
Witness the romance of wild horses galloping across the desolate Namibian wilderness, when you visit the arid plains around Garub near Aus in the South. Free to roam at will, these sleek animals prefer life on the flat lands between the Koichab River and the Great Escarpment – approximately 550km from Windhoek.
They are often seen on a day trip from Lüderitz, as well as from the Garub hide which overlooks the waterhole built especially for them. Despite numerous theories, these horses continue to occupy the wilds of Namibia; they cope admirably with their water- and food-stressed existence, and remain in surprisingly good condition except in times of rather extreme drought.
Don't miss the chance to see and experience their romance – plus, if you choose, you can support them by clicking here.
Meet Our Homies
Namibia is described as a "cultural melting-pot", in that it combines early African populations with Western travellers from all over. The country's colonial history can never be forgotten, evident as it is in the German food, beer, language and architecture in each of the main centres.
Yet all Namibians share a deep love of the land they share with just a few of its 13 ethnic groups including: the Khoisan, last hunter-gatherers on earth; the Owambo, known for their agriculture, fishing and crafts; the Herero, where the women's horn-shaped hat shows their reverence for cattle; and the Kavango, who trade in roadside carvings. Let's not forget the Tswana, who have largely swopped their early totenism for Christianity; the Himba, whose women colour their skin red; and the Caprivians, who fish and live in harmony with the soil. The slightly built Nama are known for their skilled handiwork; while the Damara's ancient ways have been recreated in the Living Museum of the Damara.
You'll be able to engage with and learn more about all these cultures on your Namibian journey.
Witness The "Smoke That Thunders"
Not a Namibian destination but one that is so close by when you tackle southern Africa on a self-drive trip, it would be a shame not to witness it – is the majestic Victoria Falls.
While Scottish explorer David Livingstone is said to have named the falls after 1855's reigning queen of England, the local people had their own name for it, i.e. Mosi-oa-Tunya (the "smoke that thunders"). And this name will make sense to you as soon as you approach the world's largest waterfall, because the volume of water it draws literally thunders over the edge and into the abyss below.
There is an incredible amount to keep tourists busy in the surrounds, but it all depends on whether you're an adrenaline junkie or a more sedate traveller.
Taste Moose Pie
If you've watched movies like The Sound of Music, you'll know the traditional significance of apple-filled desserts to the German nation. And, of all the coffee shops and bakeries in Namibia (never mind the world!), a surprisingly tiny stop by the roadside is said to produce the most scrumptious apple pie in existence.
The story goes that Scottish adventurer, Percy Cross McGregor (or 'Moose' for short) became the self-proclaimed mayor of Solitaire back in the early 1900s. Notably, he was an incredible baker and set about concocting traditional German apple pie deluxe – which has proven beyond popular, ever since, to locals and tourists who stop to sample it after a long drive through the baking desert.
Solitaire is located approximately 80km north of Namib-Naukluft's Sesriem Gate, and is the last petrol stop between Swakopmund and Sossusvlei. The lodge is also well known for it's meat pies and other pastries; but tourists can't resist the apfelstrudel first and foremost.
Disclaimer
Please Note: The details shared herein were correct at the time of publishing. However, with time some of this information may change. We recommend confirming information with suppliers prior to making final travel arrangements. If you do happen to find an issue with any information we've shared here, please feel free to contact us so that we can make the relevant changes.