There are so many reasons to  linger longer in Swakop!
Swakopmund boasts a long tradition of tourism, attracting thousands of international and local visitors every year.
The population of this coastal town, located about 350 km from Windhoek, easily doubles during the major holiday seasons. Many Namibians aspire to own holiday homes in this lovely oceanside town and about half of the homes are owned by people who reside elsewhere.
So, what's so special about Swakopmund? Keep reading to find out more about the many things to do in Swakopmund.
Beautiful Beaches
Although Swakopmund is the closest thing you'll find to a beach resort in Namibia, the beaches remain unspoiled and uncrowded.
Regardless of the time of year, the water temperature never exceeds 15°C thanks to the Benguela current sweeping in from the Antarctic. This makes a quick dip in the ocean the perfect antidote to the high temperatures of the Namibian summer.
Most aqua enthusiasts prefer to swim in the lee of the Mole sea wall, where things are a little warmer and there are lifeguards on duty. Surfers love to tackle the waves at Nordstrand near Vineta Point.
Vineta Point's a hotspot for beach lovers with a large waterfront development boasting shops and restaurants onsite, making it a hub for leisure seekers visiting Swakopmund.
As you head out of town towards Walvis Bay, you'll find even more scenic sandy spots to shake out your beach towel, enjoy a scenic walk, or try your hand at fishing. Long Beach is a particularly scenic spot along this route.
All the beaches at Swakopmund are free to access and enjoy. However, the Atlantic Ocean is unpredictable with strong currents, so it's best to stick to beaches where there are lifeguards on duty.
The Dunes and Desert
In Swakopmund, it's hard to tell where the beaches end and the desert starts. Some of the beaches butt right up against gorgeous dunes, which are perfect for dune-boarding and climbing.
Swakopmund's sand dunes are an enigma, some towering over 300 meters above the sand and stretching for as much as 300 meters long.
They're among the largest in the world, second only to those of the Badain Jaran Desert in China.
The Namib Desert is one of Namibia's most outstanding features. Known also as the Namib Sand Sea, the desert's a UNESCO World Heritage Site and the oldest desert in the world, with a history spanning 55 million years.
There are so many things to discover among these ancient sands where you can lap up the beauty of this fascinating ecosystem. Guided tours from Swakopmund reveal unique fauna and flora along with a host of desert-adapted living creatures have made their homes in this harsh ecological Red Zone.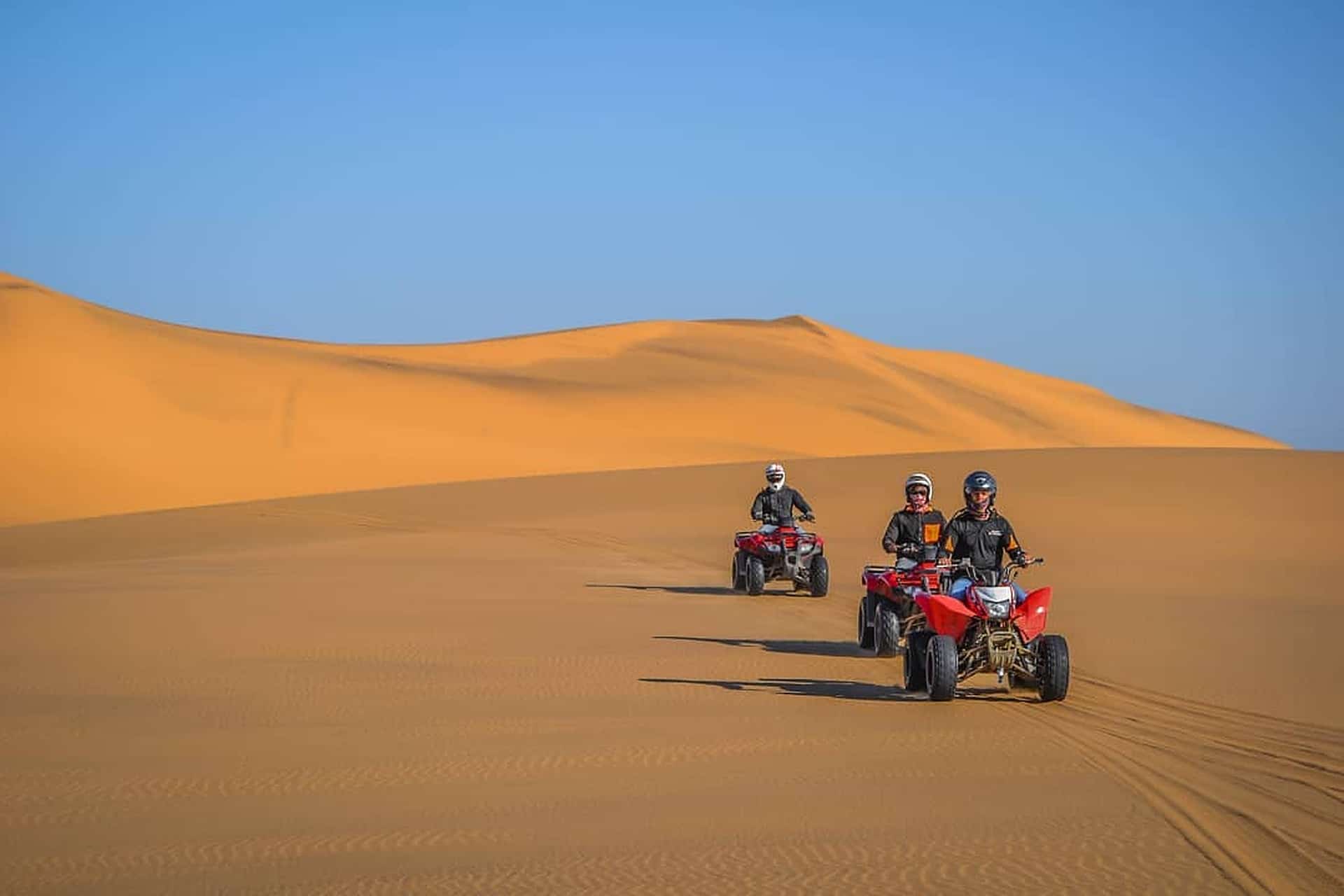 Adrenaline Pumping Diversions
Adventure seekers flock to Swakopmund in search of thrills among the sands, or in the clear skies above.
You can do just about anything that gets your heart racing in this part of the world. Skydiving, hot air ballooning are a great way to admire the lie of the land, while dune boarding, and quad biking are a treat for speed junkies.
If you'd prefer to enjoy the scenery at a slower pace, you can opt for horse or camel rides across the sands.
Kitesurfing, deep sea fishing and surfing are among the most popular seafaring adventures, but you can also head out on more sedentary sunset cruises as well as dolphin and whale watching outings.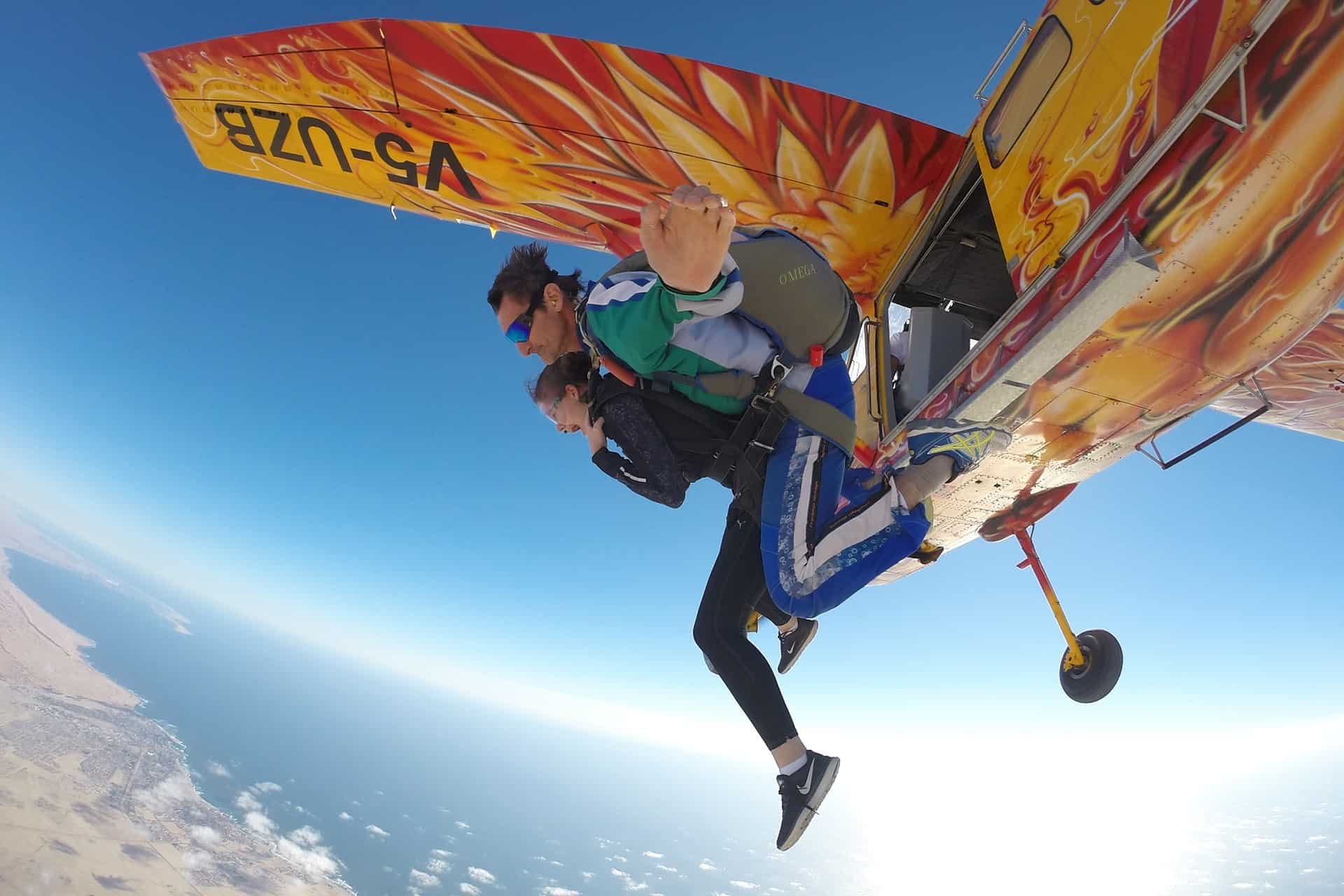 Stunning Sunsets
Beautiful sandy shores and a western-facing location combine to produce some of the most stunning sunsets you'll ever see.
You can enjoy gorgeous scenes of the sun sinking into the ocean at the end of day from a lofty viewpoint atop a dune, while sinking your toes into the sand on the beach, from one of the amazing seaside restaurants, or from the balcony of your accommodation.
Dining and Drinking
Although the cold Atlantic waters might deter all but the most determined swimmers, sea life thrives in these conditions, making Swakopmund one of the best places to enjoy fresh seafood worldwide.
You'll find no shortage of restaurants with a view serving up crayfish, crab, prawns, mussels, oysters, and delicious catches of the day. Try The Tug and the Wreck for sumptuous seafood with a view.
If you're looking for a super start to the day, try one of the many coffee shops or café's like 2 Beards and the Village Cafe, or one of the many bakeries dishing up freshly baked breads, brotchen, croissants, cakes, and pastries.
When you find a break between activities, an ice cream from one of the local confectionaries is just what you need. Like any coastal town, Swakopmund boasts its fair share of takeaway outlets and food trucks too.
If you're looking for a jovial and social way to spend the evening, head for one of the pubs to enjoy some of the world's finest lagers with a side of traditional German fare.
You'll find something to take your taste buds to the next level of enjoyment all over Swakopmund.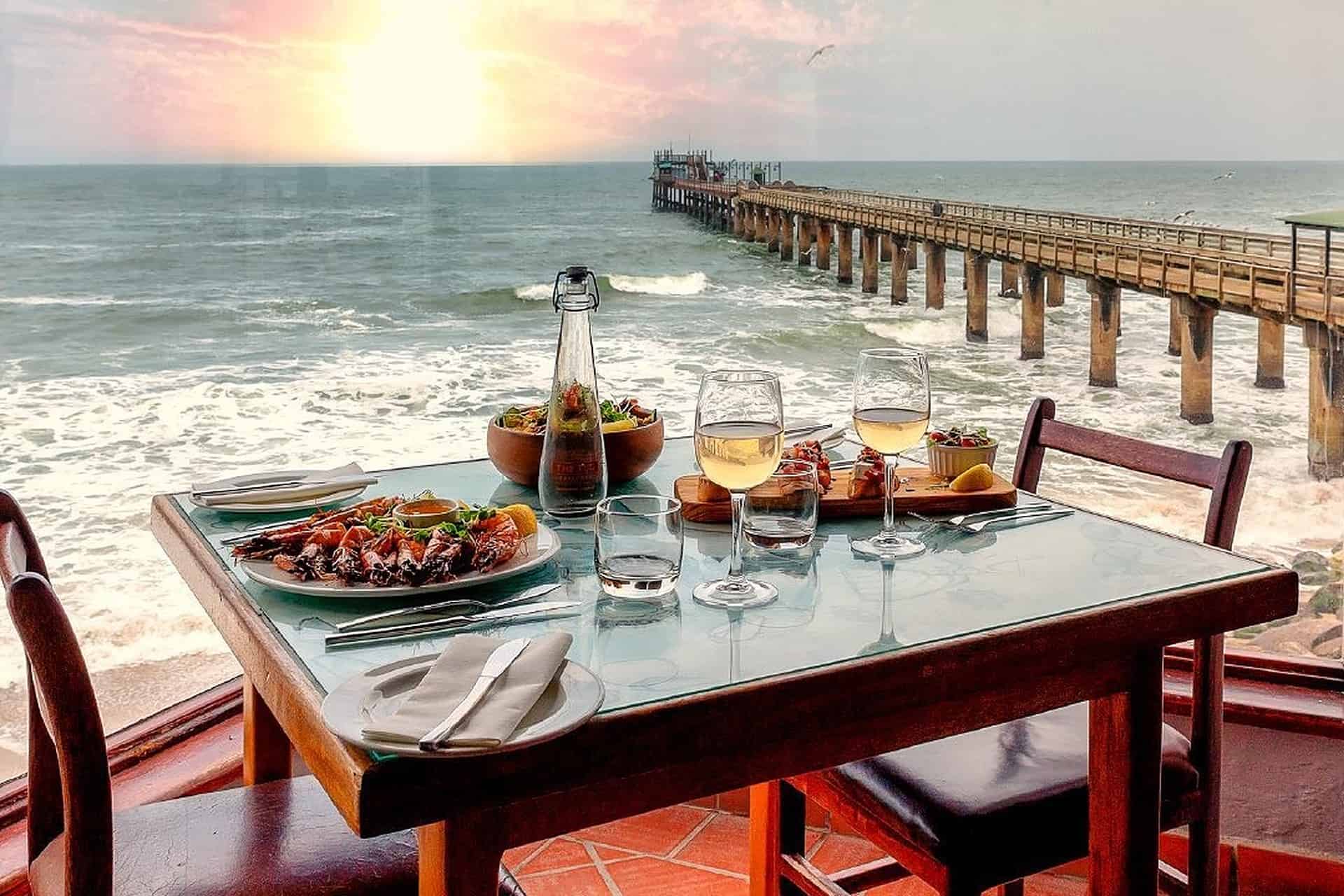 Superior Accommodation
There's somewhere for everyone to lay their hat in Swakopmund. If you're an adventurous and social soul traveling on a budget, try one of the backpackers on the edge of town.
Families will love the choice of self-catering apartments up for grabs, while those who like their luxuries can check into a seafront hotel or plush bed and breakfast accommodation.
Wonderful Weather
Namibia's low rainfall ensure that clear skies and sunny days dominate the weather report. However, the desert can pack a chilly punch at times and Swakopmund's climate can be a little unpredictable at certain times of the year.
Mist and cold can roll in from the Atlantic when conditions are right, so allow a little flexibility in your arrangements when planning a trip to Swakopmund.
There's never a bad time to visit Swakopmund although the busiest months for international tourists are usually August and September.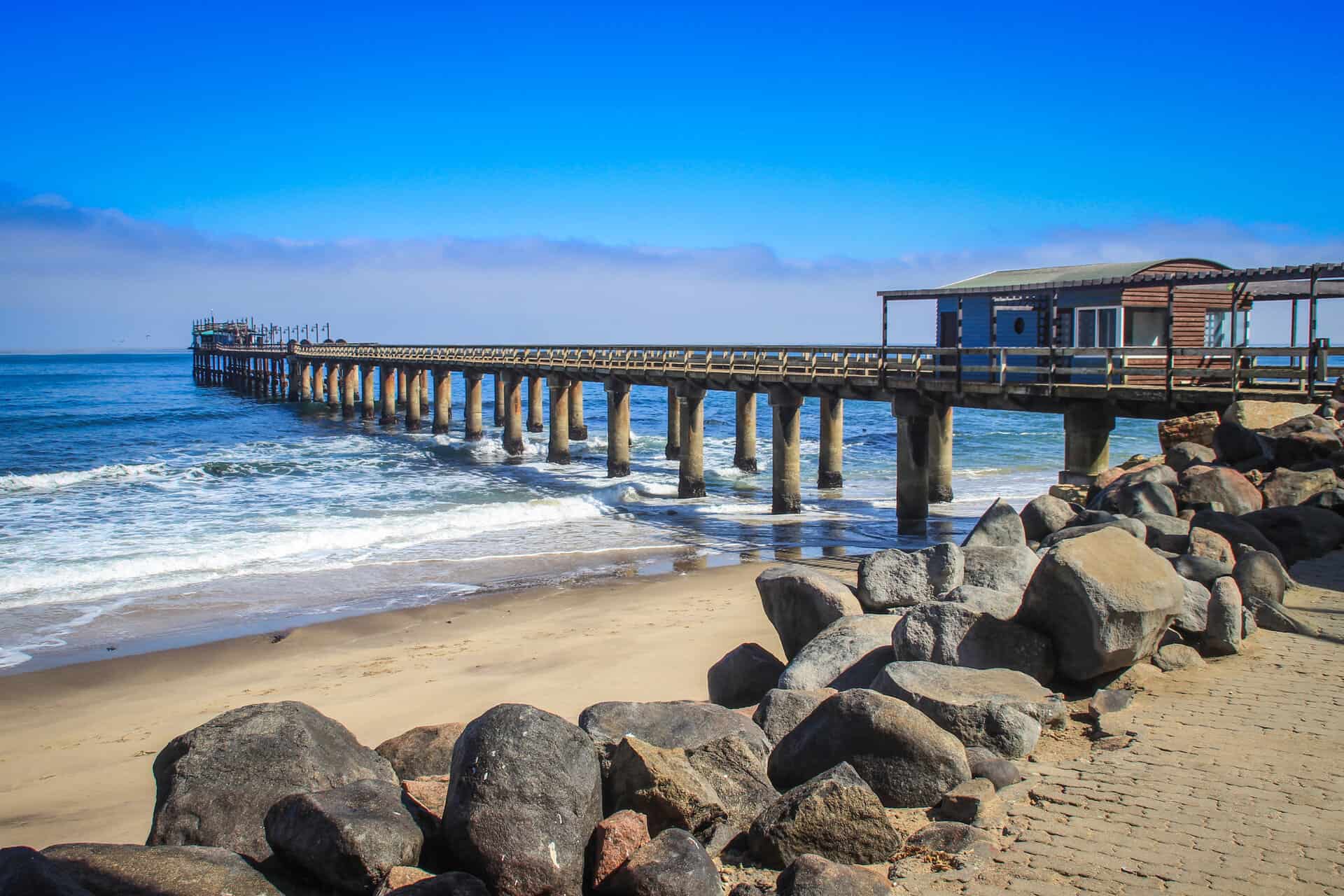 Making the Most of Your Trip to Swakopmund
Swakopmund is the ideal destination for those wanting to unwind and forget about daily stresses.
The best way to make the most of your time in Swakopmund is to stay for as long as you can. The longer you linger in this laid-back coastal town, the more you'll find to love about it.
Keep browsing our website for more information on the best things to do in Swakopmund and Namibia or get in touch for more information.
Disclaimer
Please Note: The details shared herein were correct at the time of publishing. However, with time some of this information may change. We recommend confirming information with suppliers prior to making final travel arrangements. If you do happen to find an issue with any information we've shared here, please feel free to contact us so that we can make the relevant changes.